A Pre-Covid Trip to the Coast
After a cozy night in our new RPod trailer, we arrive at the Breakwater Café mid-morning on a drizzly autumn day along the reliably soaked southwestern shore of the Strait of Juan de Fuca. Jean is eager for her next cup of Joe, and we are both primed for a hot breakfast.
The café's entry hallway walls are neatly decorated with vintage black and white photos of weathered salmon-boat pilots back from the sea, rustic beefy loggers standing on their fallen prey, and proudful shots of an enormous tannery that in its prime was the biggest in the country. The scenes reflect eras of great plenty, but not a plenty that lasted. The café's '60s-era builders, clearly visionaries, made room for seating of over 100. They ended up probably a tad and a half too optimistic for a site centered between Clallam Bay – a berg of 387 souls and famous for its prison and not much else – and its western bay settlement partner of Sekiu, population 27, hanging in there as a spot on the map because a few metro Seattle anglers still make the 4-hour trek west across the Sound to head out to sea with the charters, fishing for ling cod, halibut, kings and silvers. I don't imagine the café fills now even during peak fishing season, but perhaps I'm the one who lacks vision.
We stand by the posted sign "Please wait to be seated." A table of four wizened patrons to the left, a pair of geezers to the right, and three more geriatrics up ahead with deeply creased faces lazily engaged in conversation are a collective proof that the place remains a going concern even in mid-November. Eventually, we hear from the galley a distant pleasant voice that calls out "be right with you folks."
Soon enough, out springs Sam from the kitchen; early 40s, tattoos down her neck and arm, wearing comfortable loafers, brown slacks and a light blue sweatshirt stenciled with "The Mendocino Coast" across her chest. "You are welcome to sit anywhere you'd like," she invites us with a bright hospitality. "Want some coffee?"
Two minutes later she brings the coffee and a couple of menus. After ordering, a conversation ensues.
"Where are you folks from?" Sam inquires.
"We live in Olympia and are headed for Cape Flattery."
"Oh, you'll love it out there. Flattery's awesome. And you ought to see the museum in Neah Bay. I learn something every time I go there."
"Yeah, we heard that the museum was worth it. We'll go there too. May I ask, where you've been on the Mendocino Coast?"
"Don't know where it is," Sam responds. "Picked up the shirt at a garage sale. It's warm, and I like to stay warm when I'm working."
"For someone who likes to stay warm, you sure picked a funny place to live and work. Sekiu is cold pretty much all the time, isn't it?" I'm asking this with a silly grin on my face.
Sam meets my grin straight on and proceeds to launch into her life story. She grew up in Clallam Bay. Went to school with an old Parks colleague of mine, Mike, whom I came to see as a Clallam Bay success story. The boy who escaped and made it. But not so Sam. She got kicked out of school at age 15 for fighting. She describes the details of the fight, in part by way of explanation and in part for pride's sake. Kind of nostalgic bitterness yielding smoothly to determined laughter. No love lost between her and the school administration, that's for sure.
Her family, soon after the incident, moved away to Marysville in Snohomish County. No fighting there, but she endured a lot of teenage taunting. Sam hated the big city, pined to return to the Strait, and convinced her parents to do so. Not allowed back at Clallam Bay, she ended up graduating from Neah Bay High School. Almost the only non-Indian student around, school took a 30-minute drive from Sekiu, but she was home on the Strait, nonetheless. And never left again.
Five children later – the oldest now 18 – she is a devoted mom, insisting that the kids stay in school and do their homework. She holds down this restaurant job just two minutes by pickup truck from the house and seems to have the life she wants. Turns out that Sam not only is our waitress, but also our cook, cashier and dish washer.
Jean orders the advertised "standard breakfast" with sausages. "A side of hash browns and a couple of poached eggs," is my request.
Her face crinkles up a bit on the side. "You don't do poached eggs, do you," I take a guess.
"Um… you are like the fourth person to order that in the last week, and like no one has ever ordered that before. Odd. We don't have one of those poacher things and I'm not very good at making poached eggs. I can do fried eggs."
"That will be great. Make mine over medium," I smile.
"Can do," she smiles right back and off she speeds to make our Sekiu breakfast. Sam returns soon thereafter, smoothly placing the meals on the table.
"Do you want hot sauce?" she asks. "I've got three kinds."
"Bring us what you've got," I reply. Jean loves hot sauce.
We chow down, compliment our cook on the quality of the meal (turns out she really has talent), pay our tab, and take off for Neah Bay.  The village's Makah Cultural and Resource Center Museum, just as Sam suggested, is top notch. Extremely well organized, strong and clear writing, knowledgeable staff and killer artifacts.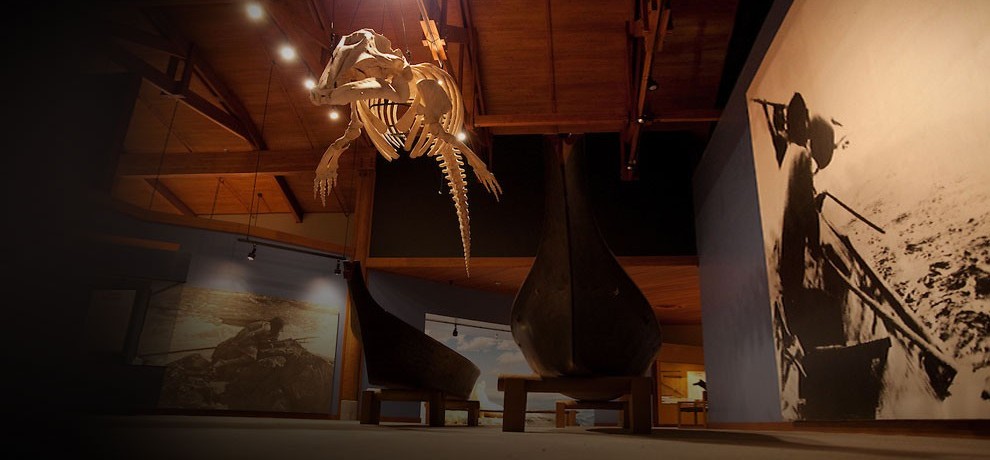 We proceed to drive through the village and westward to Cape Flattery.  Arriving at a modest trailhead, a one-mile hike through moss-dripped spruce and hemlock leads us to that spectacular vantage at the end of our continent.  Waves crash violently against the cape's sea stacks, sea holes and pewter-gray colored sandy beaches as I humbly scan the vast and swirling ocean. Sekiu Sam's yearning to return home to stay makes all the sense in the world.